QUALITY ENGINEER [ JOHOR BAHRU ]
Specialisation: Engineering – Mechanical/Automotive
Education Qualification: Bachelor Degree
Work Location : Johor Bahru, Johor
Salary Range : RM 3,500.00 – 5,000.00
Posted Date : September 06, 2021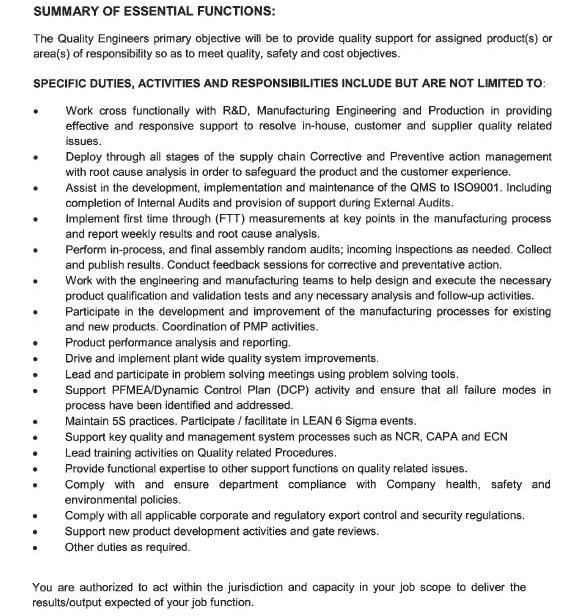 POSITION REQUIREMENT.
Education.
Bachelor degree in Science or Enginering or related discipline.
ASQ-Certified Quality Engineer or Certified Quality Auditor designations an asset.\
Lean six sigma green belt certified would be an asset.
Experience.
3 years minimum experience in quality assurance within a high-technology manufacturing environment.
Experience in electro-mechanical systems manufacturing is preferred.
Knowledge/Skills.
Strong capabilities in quality planning and analysis, statistical tools and data analysis.
Experience with and good knowledge of ISO 9001 or higher.
Environmental management systems around ISO 14001 experience an asset.
Privious experience in a Lean Manufacturing environment is desirable.
Excellent oral and written communication.
Strong analytical approach, ability to facilitate team process problem sloving with strong interpersonal skills.
Fluent with Word, Excel, Power Point or Visio and SAP ERP.
Experience with management system implementation, process mapping andflowcharting.
Must be assertive and able to work with minimum supervision.
Kindly contact the following consultant at +60 12-598 5453 for further details or send your resume to Ms Lynn [ crcs-recruitment@cityrecruit.com.my ]